The Portland Trailblazers arguably have the most promising future (5-7 years) of any NBA team in the league. Funny thing is, the Blazers most promising pieces have yet to play an NBA game. Portland has a lot to look forward to especially after waiting since 2004 to return to the playoffs and 1990 1992 to compete for a championship (where they went to the finals in both years).



With number 1 overall pick in last year's draft, sitting out the season with micro fracture surgery on his knee, the Blazers are hoping that Ohio State Center Greg Oden turns out to be Hall of Famer he has the potential to be. But even if the young big man ONLY becomes an all star caliber player, all might not be in vain with Portland having so many young and talented pieces including rising star Brandon Roy. Roy and Oden will be the cornerstones of this franchise...and yes Big Men are marketable...



Portland really does not need to make to many moves this off season other then wait and see how the pieces fit together. The pieces being there though, is much in thanks to GM Kevin Pritchard who helped bring in key pieces like Greg Oden, Brandon Roy, traded away Zach Randolph, and acquired Jerryd Bayless.

They'll be great...we think

Two other key pieces to this Portland team has to have yet to play an NBA game as well. Jerryd Bayless and Rudy Fernandez. Jerryd Bayless was arguably the best point guard behind #1 pick Derrick Rose in this years draft projected being picked as high as #4. Bayless has a little bit of a scoring point guard mentality, but in Arizona he had to be the man. Now in Arizona, between him and Roy being able to handle the ball, they'll be able to play off each other for lots of ball movement and easy buckets. Bayless' strengths are his quickness, athleticism, and intelligence, combined with his confidence will lead him to be a credible scoring threat.
Depending on how the Blazers use/develop him, we'll get a glipse of how good he'll be. Steve Blake is still there who is solid in all aspects of his game.
And despite being undersized we saw how we helped bring Maryland an NCAA championship.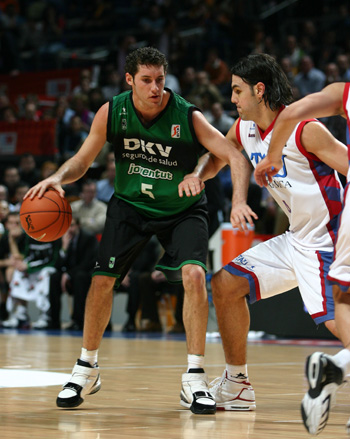 The other intriguing prospect is Spanish Basketball Player Rudy Fernandez. Fernandez is the prototypical European guard, with good shooting, slashing, scoring abilities, and averaging defense and athleticism. For Rudy however, he's done it big, showing his composure helping Spain win the 2006 World Champions and take Silver in 2007 European Championship and winning several MVP champions which I can't read because they are in Spanish.

With a backcourt of Blake, Bayless, Fernandez, and all star Roy and reserve Sergio Rodriguez (also from Spain), Blazers have the depth and youth to be strong in the backcourt for a long time.

The SF position is a little more trickier for the Blazers as they won't be resigning reserve James Jones but instead replacing him with skinny but highly skilled frenchman Nicolas Batum. This kid has a lot of skills and potential but will need some time to develop. For the time being however, Martell Webste and Travis Outlaw didn't do a terrible job last year together putting up 24 points 8 rebounds, however their average 42% shooting and isn't really going to strike fear into any teams hearts. However, with so many scorers Outlaw might be able to focus on being a quick, athletic defender, while Martell could find himself losing his spot in the rotation. Otherwise, hopefully these players can continue to develop, or a perfect situation would be to trade these young pieces for the one year Ron Artest rental with hopes he'd love to stick around on this championship caliber team...unfortunately I just remembered this is no longer the Portland Jailblazers.

In the front court, we've mentioned Greg Oden but behind him is the incredible defensive Big Man Joel Pryzbilla. He is a great backup, being one of the best defensive big men in the league, 28th in blocks per 48 minutes last season, and he lead Blazers in rebounds and FG%. However with glaring weakness on something called offense with his 68% free throw shooting .4 assists per 24 minutes his contract of $32 million for 5 years might be just right or a little over doing it. On the plus side he's a bigger contributor then Raef Lafrentz whose had some servicible years in the league, but just won't crack the rotation in Portland.

At the other block LaMarcus Aldridge he a terrific young big men being second in scoring on the team last year with 17.8 points. He's still trying to find his own rebounding and defensively, but he has a repoitare of skills in his still developing body. Plus put him next to Greg Oden or Pryzbilla and his defensive inabilities will be masked. Channing Frye from Arizona is a similar mold of Aldridge, skill long Power Forward with phenomenal offensive capabilities and limited defensive abilities. He in essence does a lot of thinks Aldrge does just hasn't been given the time, so he's been doing it on a limited basis. Frye may be gone next year so he's going to really have to prove himself if he's hoping to stick around.

With a rotation of Aldridge, Oden, Frya, and Pryzilla the teams front court is solid offensively and defensively . The team will be able to throw out different players depending on the matchup and collectively these players will learn and grow together to make their way to be a championship contenting team.

This off season may look boring for the Blazers from the normal fans perspective, but for Blazers fans this may be the most exciting off season yet (if Greg Oden doesn't miss next season too).


Picture Source: Answers.com, cache.dailylife.com, draftexpress.com, si.com, espn.com.